Dive within
" The Transcendental Meditation technique is a simple, effortless way to dive within, to experience an ocean of pure consciousness, pure creativity, pure knowingness. It's a unique experience but also very familiar - it is your own Self."
- David Lynch, filmmaker and chair of the David Lynch Foundation for Consciousness-Based Education and World Peace
Aju loovuse arendamine
Aju ei ole sündides täielikult valmis. Täisikka jõudmise ja kogemise loomuliku protsessi käigus luuakse aju igal hetkel uuesti, aitamaks kõigiti kaasa teie mõtlemisele, otsustele ja käitumisele. Aju jätkuv loomine on dünaamiline protsess.
Puhkava ärkveloleku kogemus Transtsendentaalse Meditatsiooni ajal loob optimaalsed tingimused teie kõikide võimete, maksimaalse arukuse ja loovuse väljaarenemiseks kõige sundimatumal viisil, vältides samal ajal stressi kahjustavaid mõjusid ajule.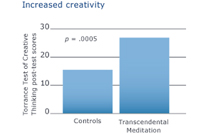 The Journal of Creative Behaviour
1979 13:169–180
Suurenenud loovus
Inimesed, kes on õppinud Transtsendentaalset Meditatsiooni, on näidanud kontrollgrupiga võrreldes üles suuremat loovust kõrgtasemel maalimises, mida mõõdeti pärast viis kuud kestnud TM-i praktikat. Nad näitasid üles suuremat loovust ka mõõdetuna kõrgtasemel piltide mõistmise suurema paindlikkuse ja kõne voolavuse (kaardistamata) osas.