Kuidas Transtsendentaalne Meditatsioon toimib?
Ärkamisest kuni hetkeni, mil taas uinume, on meel pidevalt aktiivne. Transtsendentaalne Meditatsioon võimaldab teadlikul meelel kogeda vaiksemaid tasandeid ja lõpuks transtsendeeruda ehk minna isegi mõtte peenimast tasandist kaugemale ja kogeda puhast teadvust – lõputu loovuse ja arukuse välja. Meel on põhjalikult lõdvestunud, kuid täiesti ärkvel, ning meele sellele sügavale tasandile jõudmise tõttu on nii meel kui keha värskenenud ja kosunud.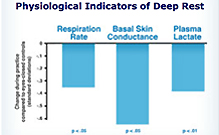 Dillbeck MC,Orme-Johnson DW. TM-i ja puhkuse füsioloogilised erinevused. American Psychologist 1987 Sept;42:879-881
Koge põhjalikku lõdvestumist
Uuringud näitavad, et Transtsendentaalne Meditatsioon tekitab suletud silmi puhkamisega võrreldes basaalse nahatakistuse kasvu, mis osutab põhjalikule lõdvestumisele. Sügavale puhkusele ja lõdvestumisele osutavad ka hingamise ja plasmalise laktaadi tasandite suurem kahanemine.
Improve your health and ability to heal
Researchers have concluded that Transcendental Meditation enlivens the body's inner intelligence, supporting its innate ability to heal itself. By allowing mind and body to access the source of nature's intelligence deep within, transcendental meditation can bring about marked improvements in every aspect of life: mind, body, behaviour, and society.